Let us help you find your way! Please use the information below to visit us.
Eureka Street Inn
55 Eureka Street
Sutter Creek, CA 95685
209-267-5500
We are connected to Highway 49 in the heart of downtown Sutter Creek.
Coming from North on Main Street
Turn left on to Eureka Street – across from the Sutter Creek Ice Cream Store.

Coming from South on Main Street
Turn right on to Eureka Street at the first right hand turn after crossing the bridge that crosses Sutter Creek.
ABOUT THE AMADOR CITY & SUTTER CREEK BYPASS
When you are driving from the North (Hwy 16 to Hwy 49) you will need to move to the left lane and make a left turn to proceed thru Amador City and into Sutter Creek.
If you are coming in from Jackson on Hwy 49 you'll cross Ridge Road (Four Way Light) and if you are in the left lane you'll find yourself on the bypass heading north around Sutter Creek. You'll need to stay in the right lane and turn right which will take you into Sutter Creek.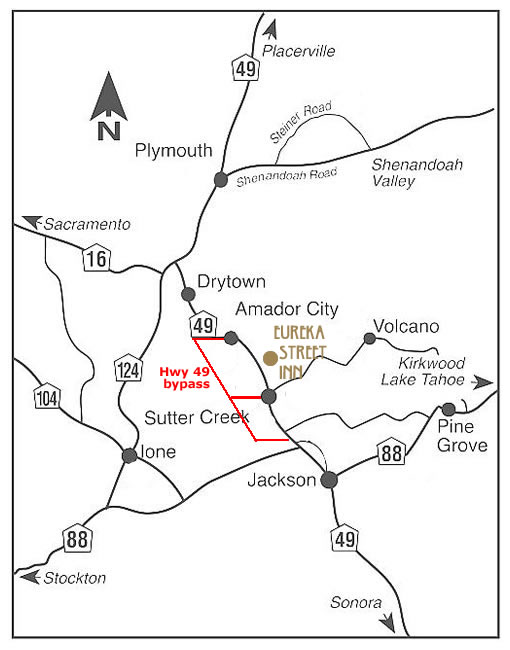 "Our first time staying at a Bed & Breakfast, it was a great first time experience. Sandy the innkeeper made us very comfortable and her inn is very clean and homey. We looked forward to waking each morning with coffee and a yummy breakfast. If your destination is Sutter Creek, we highly recommend Eureka Street Inn."
– Deborah L, TripAdvisor Review